Since when did caucasian girls represent beauty and asian girls are just dismissed as....plain?

Is it because Caucasian girls have sharper nose, protruding lips, deep-set talking eyes and better jawlines? Or the big, volumised hair complete with an impeccable sense of fashion? Admit it guys, it's because they have bigger nehnehs to squish your face in.

Going back to the root of the problem, it's because Western culture has a much stronger global impact than other cultures and media conglomerates undeniably comes from the west, toying with our perceptions and such.

To me, caucasian beauties are overrated (although still beautiful) and they cannot achieve the kind of look that asian girls can. The gentleness, frailty, ice cold and innocent look.

Since when did horse-face Lucy and slut Bai ling represent the whole of Chinese race? We should start importing fresh faces now to uphold our reputation!


Sorry Lucy Liu, I still like your role in Charlie's Angels and your wicked sense of humor!
Ok, back to caucasian women. Sometimes I just wonder why people like Angelina Jolie, Sandra Bullock and Megan Fox dominate the lists of "Hottest Women" by men magazines.
Bold and pretty features yes but too strong and explicit for my liking. Heavy features make one look masculine, not to mention sausage-like lips.
Even worse, I dont get what's the deal with Sex bomb a.k.a Megan fox
Man, is there even a tinge of femininity left in her(pun intended)? She looks like a transvestite to me. Or is she the younger version of plastic queen Janice Dickinson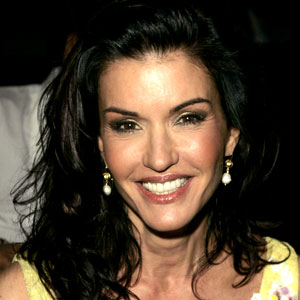 See the uncanny resemblance? Now, which guy of the right mind would like to screw people like this? People who are blind perhaps.
If you would like me to describe Caucasian beauty in a literary way with analogy, I would like to think that Caucasians represent the element fire. They are bold and dazzling and certainly burn with confidence. They instill fear in those who hear their name. But after all that burning, what's left is just dust and ashes.
Asian Women, or East-Asian women rather, would represent the element water. They are quiet and gentle and do not yearn to get noticed, they hide in insignificant places and appear to be transparent. They taste plain but are essential to life.
To quote Memoirs of a geisha
Water changes shape and flows around things, and finds the secret path no one else has thought about - the tiny hole through the roof or the bottom of a box There's no doubt it's the most versatile of the Five Elements. It can wash away Earth, it can put out Fire, it can wear a piece of Metal down and sweep it away. Even Wood, which is it's natural complement, can't survive without being nurtured by water.
Asian beauties are implicit and require time to discover and the taste to appreciate beauties requires time to nurture. Caucasian beauties are love at first sight but Asian beauties require time to appreciate but once you do, it's everlasting.
Asian women are like fine french wine, the longer you brew and taste, the more fragrant they get. Or maybe Tsuke Sushi, the more you chew, the tastier they get.
Just look at Liu Yi fei (刘亦菲). Those delicateness and Porcelain skin. One would definitely not associate her with evil. Slightly perky and small nose. Beautiful but not overwhelming and threatening. Gentle is the word. One would expect her to speak like the wind, soft and wispy.
Hebe tian (田馥甄). Cold ice queen, indifferent to the world. broody like a philosopher, complete with an independent attitude. I like!
And caucasians certainly can't sport the pan-cute look better than Asian girls.
Some random Japanese celebrity, Rainie Yang (杨丞琳) and Ayumi Hamasaki (滨崎步) . And to prove my point, here's a little snippet of scientific evidence.
The Mongoloid skull, whether Chinese or Japanese, has been rather more neotenized than the Caucasoid or European."[30] "The female skull, it will be noted, is more pedomorphic in all human populations than the male skull."[30] "Mongoloid races are explained in terms of being the most extreme pedomorphic humans."[31] "The intuition that advanced human development was pedomorphic rather than recapitulationary and accelerated was disturbing to many Eurocentric nineteenth century anthropologists."[32] "If juvenilization was the characteristic for advanced status, then it was clear that the Mongoloid races were more deeply fetalized in most respects and thus capable of the greatest development.
Neotenized and Pedomorphic means retaining childhood features when you have already reached adulthood. This explains why asians tend to have the least body hair and why we age the slowest. And in evolution terms, it is considered better.
A potential correlate of beauty is pedomorphy, which is the retention in adults of child-like traits. For instance, women have facial features that are closer to those of children than men, and more feminine women have facial features that are even closer to those of children. Thus, it may be proposed that pedomorphy is a correlate of beauty.---taken from a site about beauty science.
which is why madonna looks like this in her 50s while Maggie Cheung ( 张曼玉 ) is still radiant
Ok to be fair to Madonna, she didnt put makeup while Maggie has. And also Maggie's photo is taken in a studio.
This is the classic National Geographic photo of the same afghan woman(caucasian). She's 13 on the left and 20 plus or 30 plus on the right. shocking doesnt it? I thought she was a full-grown adult(left pic).
But in the end it all boils down to personal preferences doesnt it? Both races are beautiful in their own way but to me, Asian women wins cause of their femininity and gentleness.
But then again, I'm making over-generalizations. You have to factor in the individual as well! If you have crappy genes, nothing will salvage the situation!
Just look at Nina Dobrev
A caucasian with softer features and the "water" quality. Perfect.